Event
MIT Global France Seminar presents:
"Avedik, Louis XIV's Armenian Prisoner: Confessional Conflicts, Involuntary Movement, and Incarceration in the Early Modern Mediterranean"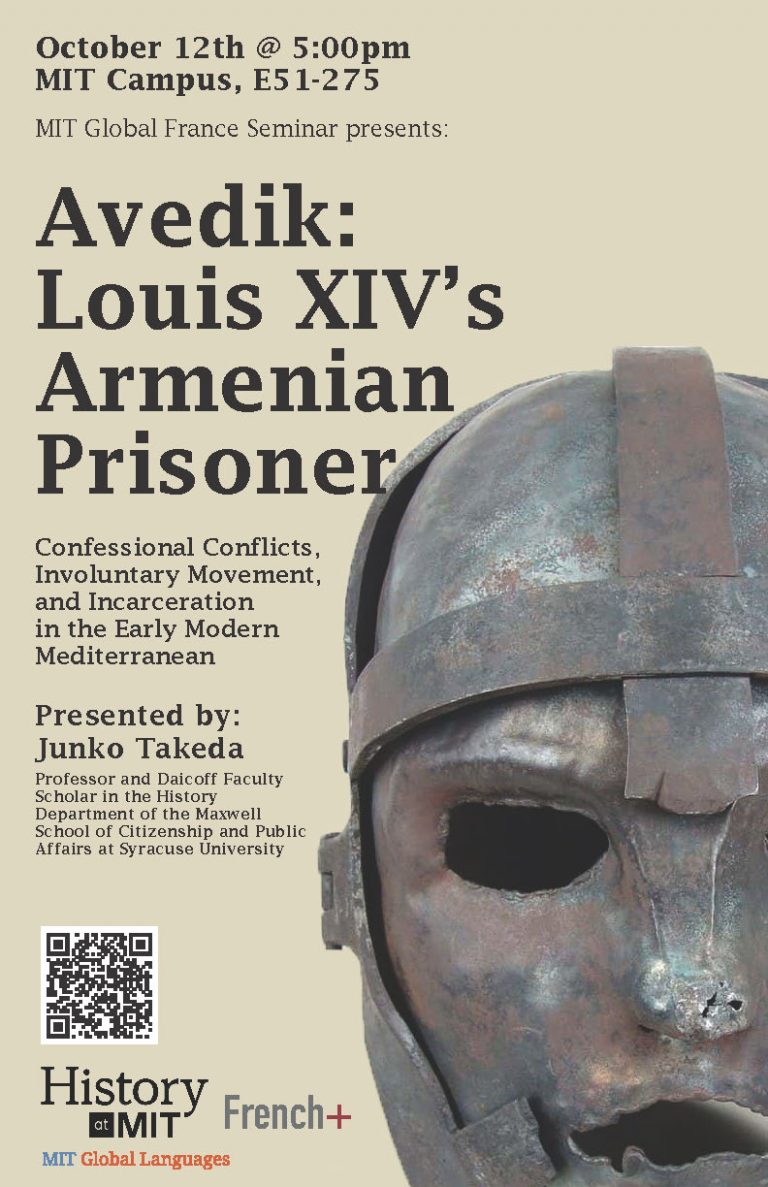 Open and free to public. Non-MIT community members should REGISTER in MIT's Tim Tickets system in order to get access to building.
MIT campus, E51-275 map
Lecture by Junko Takeda
Abstract: In May 1706, Charles de Ferriol, French ambassador to the Ottoman Empire, ordered the kidnapping of Avedik Yevtogliatsi, Patriarch of the Armenian Apostolic Church of Constantinople and Jerusalem. After imprisoning him at Messina, and Mont Saint Michel, the French Crown transported him to the Bastille. Avedik abjured Orthodoxy in exchange for emancipation, and became a Catholic priest in Paris until his death in July 1711. While incarcerated, he wrote an autobiographical memoir discussing his rise through the patriarchate, his relations with French subjects and missionaries, and his life in captivity. This talk uses Avedik's autobiography as an entry-point into a discussion about religious co-existence and conflict in the early modern Mediterranean world. It highlights the impact of the French Counter-Reformation on confessional politics in the Ottoman Empire; on the development of racialized vocabularies, ethnographic maps, and historical narratives about Armenians; and on forced movement in the early modern French empire. Exploring competing narratives about the Patriarch's rise and demise produced by French diplomats, missionaries, and Avedik himself, it highlights how the premodern history of Apostolic Armenians in early modern France has been represented, revised, and erased.

Bio: Junko Takeda's current research and teaching interests include the histories of early modern globalization, state-building and revolutions, migration, medicine and disease. Her first book, Between Crown and Commerce: Marseille and the Early Modern Mediterranean (Johns Hopkins, 2011), explored the political tradition of civic republicanism in the context of French trade with the Ottoman Empire. Her second monograph, The Other Persian Letters: Iran and a French Empire of Trade, 1700-1808 (Liverpool University Press, Oxford University Studies in the Enlightenment, 2020), examines commercial, industrial and diplomatic exchanges between France and Iran in the long 18th century, and highlights the importance of Asia in the Age of Revolutions. She is writing a third book, Avedik: Louis XIV's Armenian Prisoner, a global micro-history. It tells the story of an Armenian patriarch and his valet incarcerated at French island prisons in the Mediterranean, Atlantic and Caribbean in the early eighteenth century. Beyond French global and connected histories, Takeda's additional interests include Asian immigration to the US and Zainichi Korean history. She is currently completing a multi-generational family memoir, Undocumented: A Korean-Japanese American Story. Takeda is the recipient of the Mellon Dissertation Fellowship, the Georges Lurcy Fellowship, Society for French Historical Studies Research Award and a visiting research fellowship at the University of St. Andrews, Scotland. At Syracuse University, she has received the O'Hanley Faculty Scholar Award, the Daniel Patrick Moynihan Award for Research and Teaching and the Junior Meredith Teaching Recognition Award. She is currently the Maxwell School's inaugural Daicoff Faculty Scholar.
Junko Takeda is Professor and Daicoff Faculty Scholar in the History Department of the Maxwell School of Citizenship and Public Affairs at Syracuse University.

Sponsors:  MIT History, French+ Initiative, MIT Global Languages