Seminar
TALKING B(L)ACK : Theorizing Race and its Intersections in Critical Eighteenth-Century Studies
Global France Seminar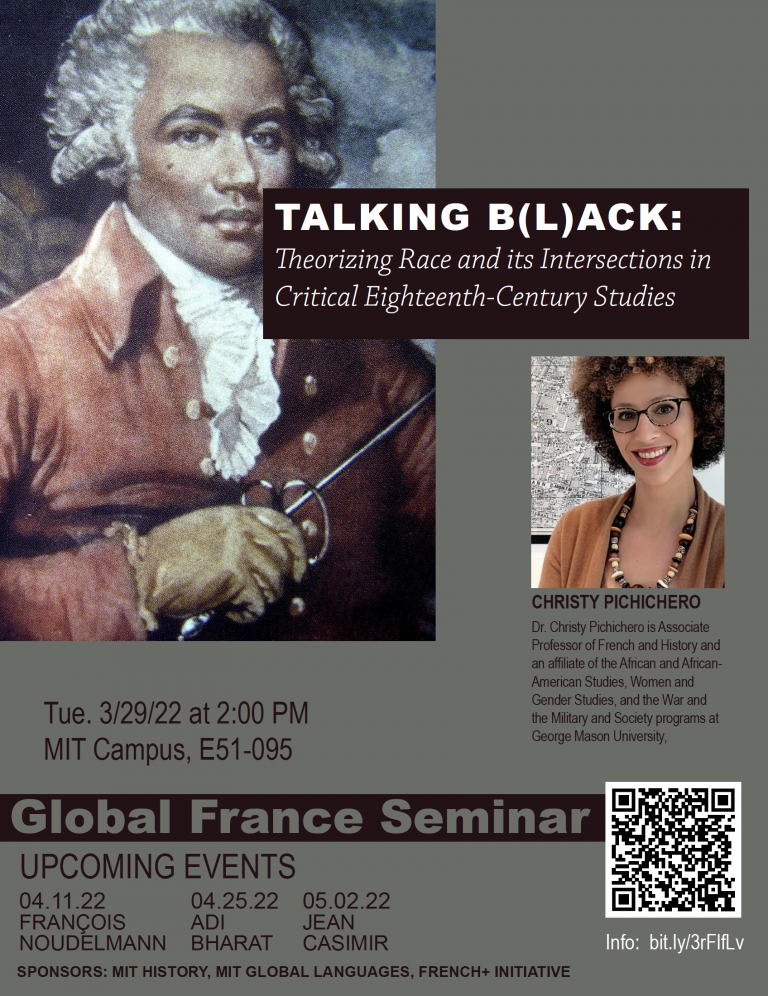 At a time when Critical Race Theory is under attack at home and abroad and scholars of the African diaspora are increasingly frustrated by the limitations of the predominant tropes for discussing Black subjectivity, it is more vital than ever to generate what Henry Louis Gates has called "indigenous black principles of criticism."
This theoretical imperative is urgent in the context of the early modern African diaspora, particularly populations located in Europe, whose diversity of experiences have been understudied, undertheorized, and oversimplified through a narrow vision of the middle passage epistemology. In this talk, Dr. Christy Pichichero will discuss her work to develop a new critical idiom at the intersection of race, gender, sexuality, and mechanisms of both empowerment and oppression that illuminate an understanding of embodied Black lives in eighteenth-century France. This innovation aims to shape Critical Eighteenth-Century Studies in a significant way, such that talking Black will allow the African-descended individuals she studies–all silenced by the archive—to talk back.
Dr. Christy Pichichero (A.B. Princeton University; B.M. Eastman School of Music; Ph.D. Stanford University) is Associate Professor of French and History and an affiliate of the African and African-American Studies, Women and Gender Studies, and the War and the Military and Society programs at George Mason University, where she also serves as the Director of Faculty Diversity in the College of Humanities and Social Sciences. She has held fellowships at the Stanford Humanities Center, the University of Cambridge (King's College), the École Normale Supérieure (Paris), the University of St Andrews Centre for French History and Culture, West Point Military Academy, and the Society of the Cincinnati. She is the author of The Military Enlightenment: War and Culture in the French Empire from Louis XIV to Napoleon (Cornell University Press, 2017; finalist, Oscar Kenshur Book Prize) and her recent articles on Critical Race Theory, Afro-feminist microhistories, French exceptionalism, and pedagogy have appeared in venues such as PMLA, Contemporary French and Francophone Studies, Studies in Eighteenth-Century Culture, and H-France Salon. She is the past president of the Western Society for French History, the recipient of the 2021 Presidential Medal for Faculty Excellence at GMU, and a public intellectual recently featured on Médiapart, National Public Radio, NBC News, Forbes, The Hill: Changing America, and Authority Magazine.
Sponsors
MIT History, MIT Global Languages, French+ Initiative
Event registration
Open and free to public. MIT Covid Pass users do not need to register, but must present MIT ID or mobile ID at the door. Non-MIT community members must Register in MIT's Tim Tickets system.